By car: 
Driving from Paris, by the Highway A10, leave it at the exit BLOIS (km 148 of the highway A10), take the direction BLOIS, and then by the road D764, the directions MONTRICHARD, SAMBIN and PONTLEVOY; in PONTLEVOY, at left take the road D30, direction THENAY. « Les Grandes Vignes » are located roughly 300 meters, at right, after the exit of Pontlevoy. A signpost, at your right, indicates you the way. 

You will find « Le Pressoir », after the castle, at the first entrance at your left.
If you have a GPS :
City : PONTLEVOY
Adress : Les Grandes Vignes
Train / Airports :
 informations concerning these options can be provided upon request.
Address :
LE PRESSOIR
Les Grandes Vignes
41400 Pontlevoy
Phone : 02.54.32.83.39
Mobile : 06.88.69.69.62
Email : This email address is being protected from spambots. You need JavaScript enabled to view it.
Two suites:
Both with mezzanine, small living room and complete private bath room (with WC). Furniture in regional style.
Third bed (or cradle) possible, upon request.
Two appartments :
Both with furniture in regional style, with complete private bath room (with WC).
Family suite :
Suite with 2 independent bedrooms, and a small kitchen.
Cradle bed possible, upon request.
Pricing :
From 79 to 149 euros (VAT included)/ night for two persons, depending upon the suite/apartment required.
Buffet Breakfast included for two.
Payment :
Cash, Traveller Checks and Euro checks
Credit Cards : Visa and MasterCard.
Other conditions :
Animals not accepted.
Free Parking in « Le Pressoir ».
Anticipated reservations requested.
Looking for a place to rest, for a weekend? You want to discover the region, its history, its vineyard? Look no further, Les Grandes Vignes is the place to go!
We can offer you either a stay with us or a turnkey trip for the duration you want. We offer you a choice of activities and restaurants to enhance your stay.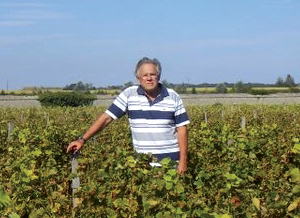 A long time ago, the monks of the Abbey of Pontlevoy would make, say people, their wine with the grapes of Les Grandes Vignes and into the property.
Time passed by, the vineyard was desactivated , and, till 2009 no more vineyard remained in the property.
In this precise year of 2009 the owners decided to revive the od tradition and created a small vineyard, with two grape varieties : Sauvignon Blanc, of course, as this is the best grape variety in t this region ; and Sauvignon Gris, grape variety almost forgotten, quite a cousin of Sauvignon Blanc, but with a strong personnality and an outstanding quality. This Sauvignon Gris, of which only a few hectares in the world still exist in commezrcial production, allows to produce a white wine with a surprising complexity. Blended with Sauvignon, which brings freshness, we could achieve an excellent wine.
In a joint ventura with a local traditional wine producer, Cedric Allion, we have developped 3 exclusive wines for our Les Grandes Vignes :
Sauvignon Blanc Château des Grandes Vignes
Le Clos, Sauvignon Blanc+Gris
Cabernet Franc Château des Grandes Vignes
These wines, and others of the Touraine Region ( Crémant, Rosé de Touraine, Cot, Gamay among tohers ) cand be tasted by our guests in our Wine Corner.

In the property « Le Pressoir » :
Natural park, 5.5 ha large, with trees and lawn. Living room for breakfast, lecture or Touraine wine tasting. TV.
In the neighbourhood:
Excellent gastronomic restaurants near by,
The Abbey of Pontlevoy, where, every summer, takes place the famous "Festival de Musique Classique de Pontlevoy",
the well known french castles of the Val de Loire,
golf courses,
museums, and gardens,
zoos and aquariums,
the "Châteaux Miniature" park.
Sports :
Tennis,
flying ( ULM),
walking,
cycle cross,
ballooning,
horse riding,
golfing.
Culture :
Pontlevoy classical music festival (july & august) in the Abbey
>> see the website - if you wish to know more, please ask us
Wines & Cellars :
The famous Confrérie des Vignerons de Oisly et Thésée,
the cellars Montmousseau and Paul Buisse, in Montrichard,
the wines of Vouvray and Montlouis,
and many more in this region.